Azumi En


Caregiver Training Course For License:
All Schooling Style
("Kaigoshokuin Shoninsha Kenshu")


※Administrated by Azu Life Care Co., Ltd.

Y
o
u
c
a
n
a
c
q
u
i
r
e
b
a
s
i
c
k
n
o
w
l
e
d
g
e
a
n
d
s
k
i
l
l
s
o
f
c
a
r
e
.
Advantages of our caregiver training course for license !
Friendly staff familiar with non-Japanese will take care of you!
Do not worry about your "nihongo" (Japanese language) proficiency or your unique life style.
Regardless of your age and academic background, we will make our best efforts for you to achieve your goal with us.
All schooling lessons without homework / assignment!
Azumi En adopts all schooling style for the caregiver training course for license.
All teachers have a lot of experience in nursing homes. They teach you all the lessons in face-to-face, and in an easy-to understand way. There is nothing to be worried about even for the caregiving beginners. You can acquire a basic understanding of knowledge and skills for caregiving. In addition, you can learn together with friends who have the same goal and similar level of Japanese proficiency.
Sunday course (6 months) or Weekday Short-term course (2 and half months)
According to your actual needs or limited time of your daily life, we offer 2-types as follows ;-
【Sunday course】
If you cannot spend much time for studying due to your busy weekday hours, then apply for our Sunday course. It's just once-a-week lesson on every Sundays.
【Short-term course】
If you want to get the license as quickly as possible, then apply for our short-term course. It's only about 2 and half months till you get the license.
Hiragana on Kanji in white board writing, sometimes in English, too
Teachers are also friendly and familiar with teaching non-Japanese students.
We put "Hiragana" on all Kanji when writing on a white board. We also provide supplementary study materials with Hiragana on Kanji for you.
Free OJT(on-the-job training) at Azumi En is available!
Azumi En is a part of the Leopalace21 Group operating 87 facilities in and around the Kanto and Chubu areas.
Free on-the-job training (OJT) at Azumi En is available for those who are interested. We also offer job search support.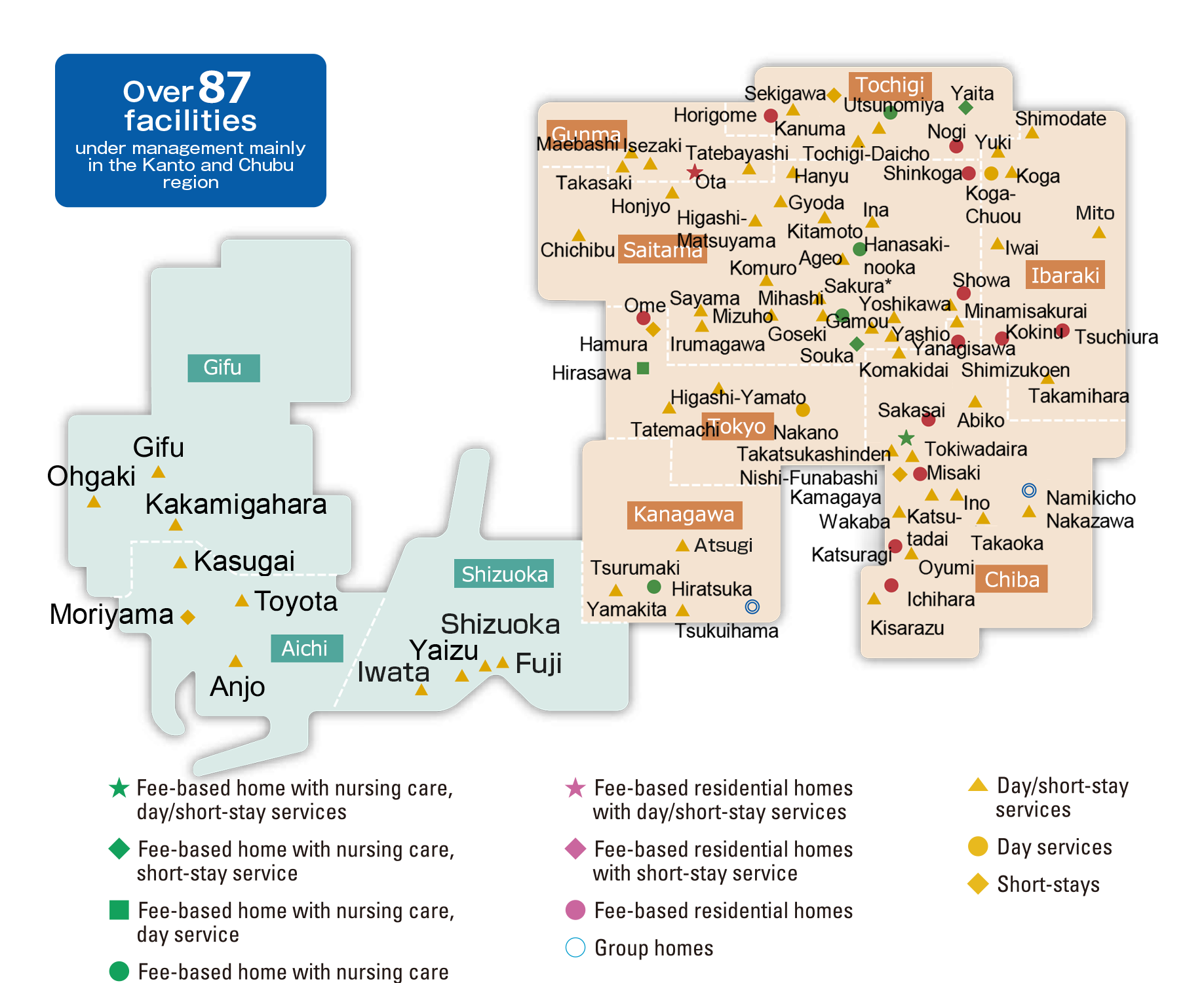 ※As of April 1,2019
For more useful information about caregivers in Japan, come to our Facebook page and like!
Course list
This is the introduction of the Caregiver training course for license from Leopalace21 Group Azumi En.